Hi there Guys!
It all started at this new Thrift store that opened up called ChristWalk here in my town.
They have the most amazing odd selection of clothes, shoes, and sewing supplies I could ever hope to find!
My first trip there I bought tons of vintage patterns and some clothes to refashion the most memorable of which being these black and white hound stooth vintage polyester men's trousers that looked like these here that
VintageTrends
is selling.
I somehow lost my before pictures so I have my in process and after picture to show you! :) I completely fell in love with these trousers-they were quite hideous as is on me but the possibilities! I could try punky hounds tooth skinnies for me or for my 5 year old...or some cute skater style shorts for both him and his little brother, shorts or a skirt for me-everything seemed so exiting I actually had to put them aside and really think about it forever before I could even try something.
At first I measured my legs and tried creating skinnies for me without using a pattern (I don't actually own any skinnies at all haven't since I was ohh 8 or 9) I tried them on and while the legs fit I didn't like the feel of them so decided to buy a good fitting pair of skinnies to wear and use as a pattern in the future...so skinnies were a no go. My older son saw them as skinnies and couldn't imagine wearing them after one of the kids in his class made fun of a shirt I made him...aagh children...so then what do I do with this fantastic fabric I adore? The waistband and rear had some looseness to it so I thought aha! A Pencil skirt! I know once my belly expands I will have to add a stretchy waistband or give them up but for now they are fantabulous! I went ahead and followed
Crafty Pirate's Fantastic Rock n Roll Skirt from Trousers Tutorial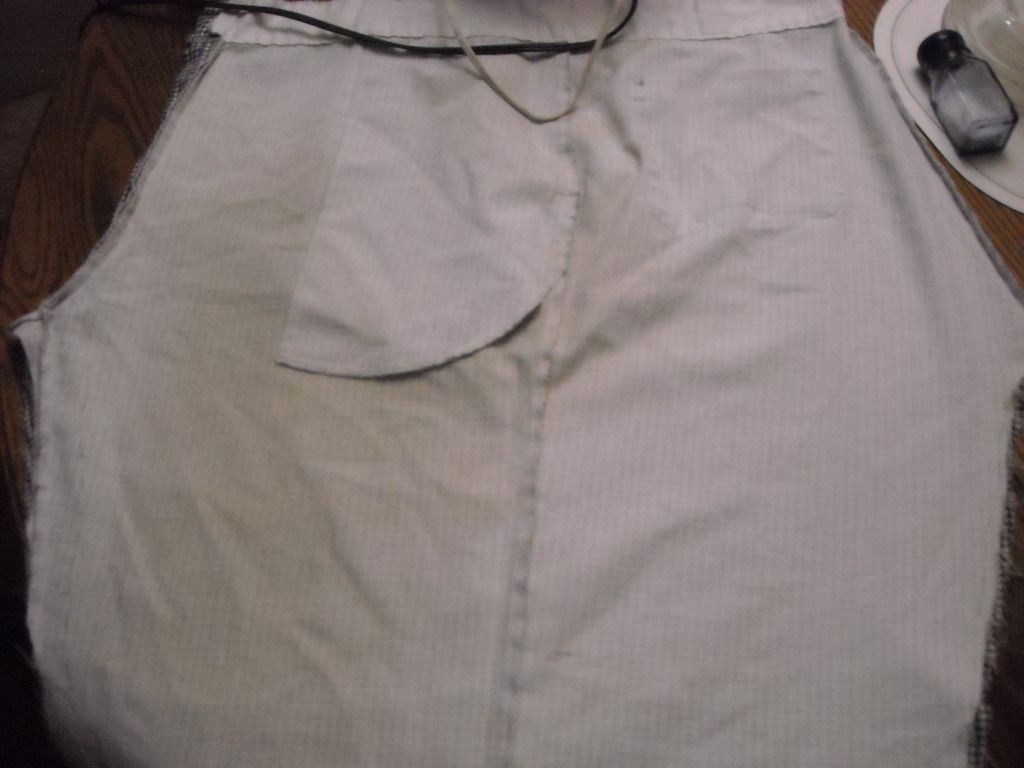 The inside of the trousers had these yellow stains that wouldn't come out. From something spilling on them in storage maybe? They weren't in the usual stain spots if they got stained while being worn.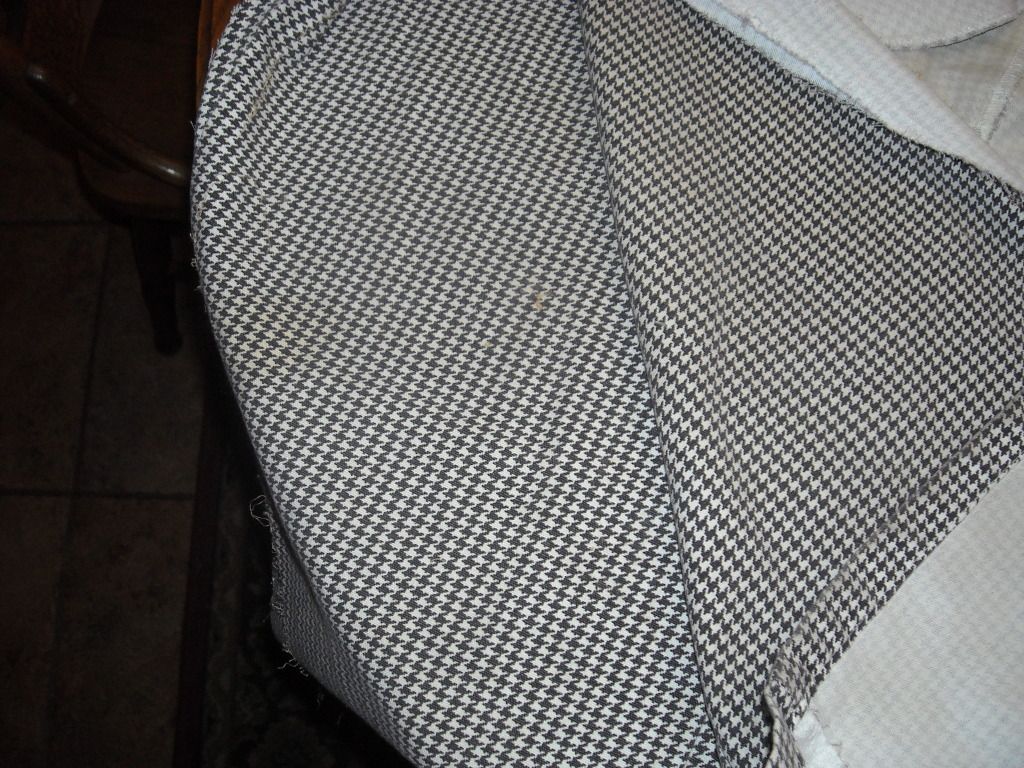 But they don't show on the patterned side of the fabric! I love this pattern :) I've already got my scraps turned into something it exited me so much! So many fun options...
I trimmed off the crotch parts like the tutorial said to, pinned the sides, and cut the legs off a few extra inches longer then I really want the finished skirt to be for an extra wide seam allowance.
I then sewed the sides up and tried it on to see what adjustments were needed.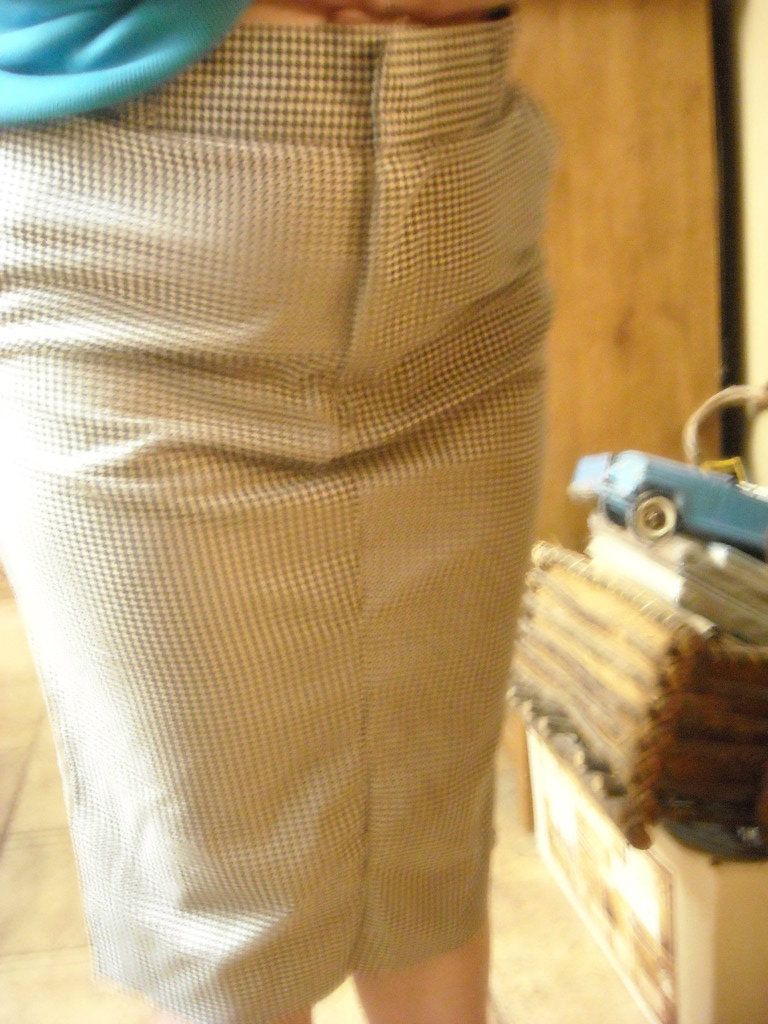 A bit loose around the tummy and high waisted but that's always good knowing I'll be getting bigger (and hopefully considerably smaller after the baby is born) This was before hemming. I also took the sides in a little more in a tapered curve in towards my knees trying to get that sexy silhouette :) When I hemmed it up I used a HUGE hem allowance 3-4 inches so I have extra to work with if I want to later, especially if I add an stretchy belly panel later on.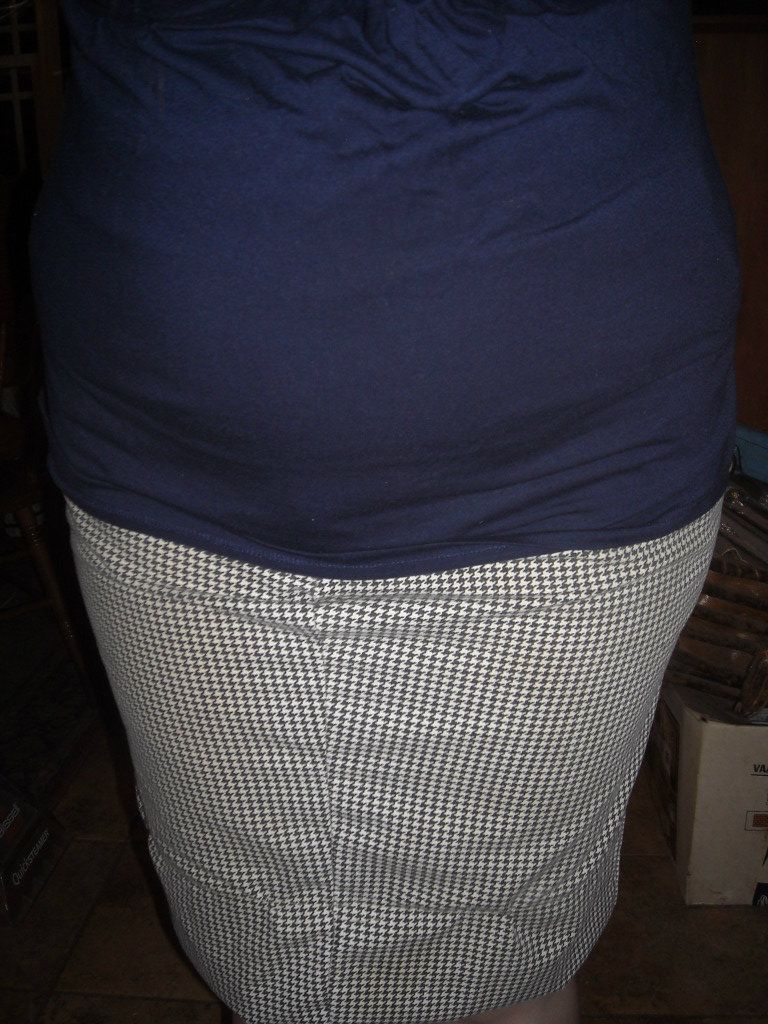 The completed skirt front, it hits right at my knee standing and rises an inch or two while sitting.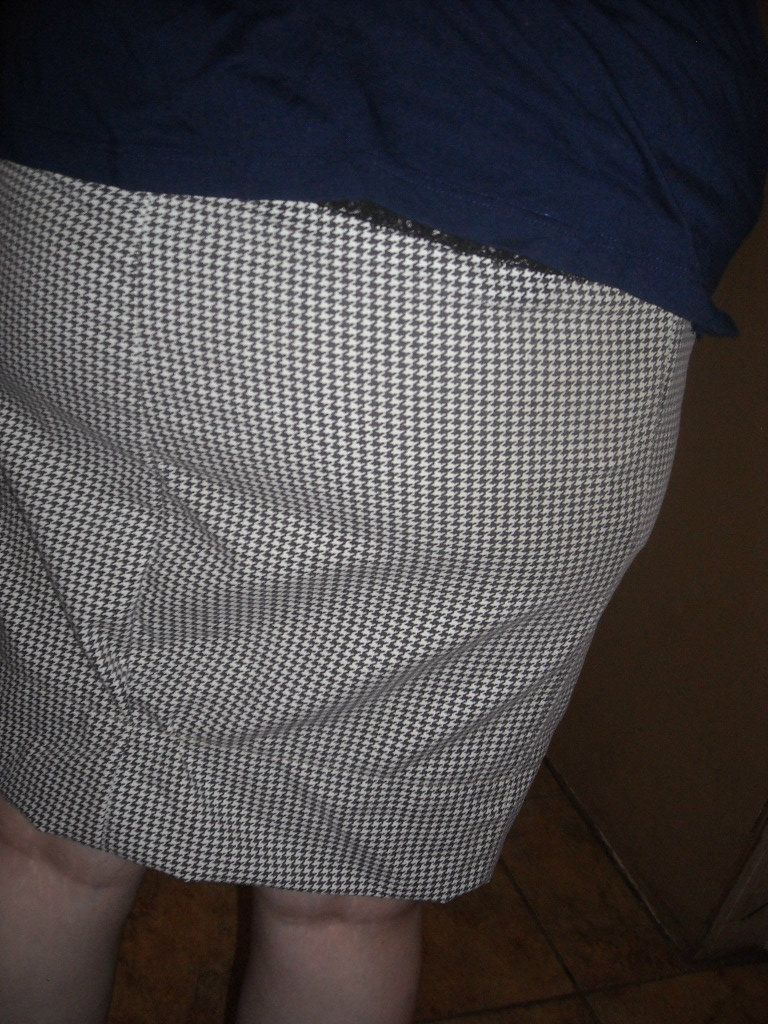 And here is the back. I didn't realize the back of my knees look so funky.
All in all a really cute pencil skirt! I wore it yesterday around the house and really liked it, I think I will add a slit in the back for walking easier. I normally wear pants or loose skirts so I'm a "Strider" as my Grandmother calls it. I would imagine if I wore it with heels instead of flats I wouldn't need the slit and it would be nice with heeled boots maybe this fall I think-and leggings!
What do you guys think? Okay for my first posted refashion for an adult?
Have a wonderful day dears!
Bonnie MS